As summer is upon us, here a guide to our favourite Food Festivals happening this Summer over the UK.
Taste of London
Taste of London is the definitive showcase of the capital's best restaurants, top chefs and leading food and drink brands. It occurs twice each year and this year it will return from 14th-18th June 2017 in the stunning Regent's Park. With 55,000 food-loving visitors in attendance this is the highlight of the summer foodie calendar. London's latest, greatest and most exciting restaurants will serve taster size signature dishes, world-class chefs will appear in live cooking demonstrations and, as always, there will be many opportunities to get hands-on with interactive masterclasses, and shop from an array of more than 200 food and drink purveyors.
What to expect:
London's best restaurants: Sample signature small-plate dishes from London's latest, greatest and most exciting restaurants.
Leading chefs: See world-class chefs cook up a storm in live demonstrations and in their restaurants at the festival.
Things to do: Get hands-on with interactive masterclasses and demonstrations and indulge in a range of complimentary activities including wine, whisky and craft beer tastings.
Gourmet shopping: Sample boutique food markets where a mouth-watering array of food and drink purveyors, artisan producers and manufacturers will be offering exclusive and unique products.
Beccles Food And Drink Festival
It's back! The 3rd Beccles Food & Drink Festival will be held on Saturday 27th May, in Beccles, Suffolk and should be an educational and fun day for all the family.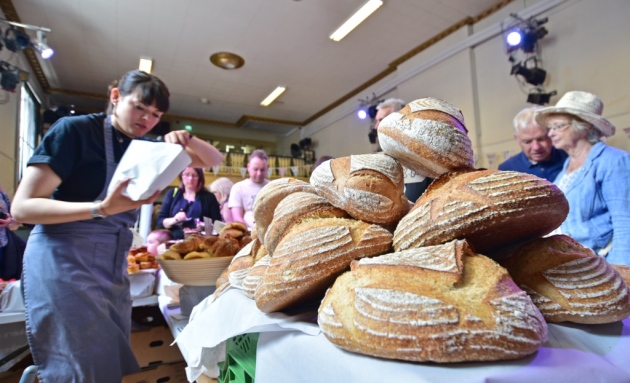 What to expect:
Running from 10 a.m. till 4 p.m., the free event, held in and around the town centre, will follow the successful format developed over the previous 2 years. Upwards of 50 stalls will be on hand, selling a wide variety of cooked and raw food, pickles, preserves, oils and other condiments, confectionary, along with alcoholic and non-alcoholic drinks. Stallholders from the Waveney Valley area include Fen Farm Dairy, The Penny Bun Bakehouse and Waveney Smokehouse, while those from further afield include Kenton Hall Estate, pudd'Eng and Yum Yum Tree Fudge.
There will also be a variety of demonstrations and talks in a cookery theatre on the stage of the Public Hall throughout the event, featuring local chefs and producers. Stalls will be situated there, in St Michael's Church, as well as in the heart of the town centre.
Children's entertainment, including storytelling, face painting and Punch and Judy will be centred on the town's Library, where a Fair Trade Pop-up Café is planned. Buskers will be active throughout the event at designated Music Hotspots.
Visitors are encouraged to use the excellent bus links to the town or use the East Suffolk rail line to the refurbished Beccles Station, while those arriving by car can make use of a free Park and Ride facility from Beccles Quay. Free maps, showing a food trail round the various sites, all within easy walking distance of each other, will be available from the Quay Park and Ride and the festival's information point in the town centre.
A new feature for 2017 is the addition of "Specials" for the festival day only by some of the town's eateries and butchers, which will feature on the map, together with the cookery theatre timetable.
Local businesses set to participate in this feature include Twyfords, Baileys, the Waveney House Hotel, Graze at the White Horse, and the Wine Vaults.
The aim of the event is to celebrate independent food and drink suppliers and eateries, both within Beccles and throughout the wider Waveney Valley area, and to attract visitors to the vibrant market town. Beccles boasts some excellent independent restaurants, cafes and shops alongside those of high street chains, and includes three long-established independent butchers, two delicatessens, a greengrocer and a fishmonger.
Taste Of Sudbury Food And Drink Festival
Taste of Sudbury food and drink festival is coming back on 11th Jun 2017 in Market Hill and St Peter's Church. Award-winning regional chefs, the area's finest producers of fresh local food and drink.
What to expect:
Work is well and truly underway to make this year's Taste of Sudbury event the best ever with a fantastic line up of chefs ready to carry out demos throughout the day on a gorgeous new style of kitchen theatre and over 40 of the region's best producers filling Market Hill and St Peters with delicious, mouth-watering tastes.Entry to the event is free of charge and parking in the town is also free plus there is a free park and ride system in place all day.
Shrewsbury Food Festival
Shrewsbury food festival is back from 24th Jun until 25th June 2017 at The Quarry Shrewsbury, showcasing the very best in artisan food, drink and craft the county has to offer.
What to expect:
There is something for everyone including loads of hands on activities for kids including cookery classes and arts and crafts right through to go karting and zorbing! Showcasing the best live music from #shropshireunsigned and local choir groups. On top of all of that we are teamed with some amazing restaurants and eateries scattered throughout Shrewsbury to provide a month round fringe festival pig out before the main event!
Colmore Food Festival
Back for the 7th year, Colmore Food Festival returns on 30th June and 1st July 2017 in Victoria Square, Birmingham, once again offering a unique, value for money experience for all visitors.
What to expect:
Some of the best restaurants, bars, cafes and bakeries from around the Colmore area of the city will be showcasing what they can offer all year round. Taster portions are just £4 each, and there will be a variety of drinks on offer too.
It's not just food and drink, there will be street theatre and local bands to keep you entertained between demonstrations on the kitchen stage.
Come along, it's free entry!
The Great British Food Festival at Castle Howard
The Great British Food Festival is back at the stunning Harewood House in Castle Howard, York over the bank holiday weekend of Saturday 27th - Monday 29th May.
What to expect:
The recipe for the weekend...?
We'll take 100 of the best, local and regional, artisan producers and mix with a generous serving of delicious hot food, real ale and wine bars.
Stir in a cake competition and an interactive baking stage with special guests from the Great British Bake Off.
Sprinkle with the popular Men Vs Food Challenges and Games, artisan talks and drinks tastings.
Add a helping of kids' cookery lessons, a circus skills workshop, lots of great children's entertainment and a pinch of craft and gift stalls.
Heat gently with BBQ demos and Cooking in a Camper and mix in a Grow Your Own area with expert foraging walks.
Finally, add lashings of excellent live music and whisk together with a beautiful Great British venue, to make the perfect, fun, foodie day out for the whole family!
The Nottingham Food And Drink Festival
The Nottingham Food & Drink Festival, now in its forth year and set in the spectacular Wollaton Park in Nottingham on the 12th August and 13th August 2017, promises to be an event not to be missed for specialist food and drink enthusiasts.
What to expect:
The Festival's 'Super Theatre' plans to give a series of entertaining and instructive live cookery demonstrations throughout the weekend, with a superb line up of celebrity chefs, who will bring an intriguing selection of international food backgrounds and influences to the show.
Make sure you don't miss the chance to see:
Theo Randall
Matt Tebbutt
Edd Kimber
Chantel Nicholson
The Craft Beer Boys
Making a welcome return in 2017 the Fruit de Mer Restaurant and will offer you the opportunity to dine in the Crabstock Festivals© Ltd "Seafood & Shellfish" Pop Up Restaurant called "Crab, Stock & 2 Smoking Lobsters", where a fantastic "Tastes of the Sea" Platter will be served up. You may also know this lovely dish as "Fruits de Mer". Places are limited to 45 per day and cost £49.95 per person.
Moving around the Festival we come to the Piazza, that fabulous area where you come to eat and relax and listen to live music on our music stage before taking in the rest of the event. Food Halls, Real Ales, Wine Tasting, The Bushtucker Trials, Crafts Corner, Children's Entertainment and workshops.
The Festival brings to Nottingham a touch of summertime, al fresco dining, Masterchefs, artisan food and drink, music, fun and hopefully laughter. So come along to enjoy yourselves, eat drink and be merry.
Wimbledon Park Food And Drink Festival
This year's festival village will be filled with even more delicious produce and entertainment, creating a memorable day out that's perfect for dedicated foodies and families alike. From 26th August to 28th August 2017 at Wimbledon Park.
What to expect:
This year's festival village will be filled with even more delicious produce and entertainment, creating a memorable day out that's perfect for dedicated foodies and families alike.
You can sample fresh, regional food and drink, from gourmet burgers to retro ice creams and artisan beers. There's the chance to learn new skills from our experts and to relax in beautiful surroundings to the backdrop of live music. Picnic on straw bales, whilst the children play garden games, have their faces painted, listen to dedicated storytellers.
‍
Don't forget to check what's new on http://lanimacafe.co.uk/whats-on