Caprese Salad
Ahh, one of our favourite dishes in the summer; fresh tomatoes, Buffalo mozzarella, and fresh basil layered together, and then drizzled with olive oil and sprinkled with salt and pepper. Caprese salad is a popular Italian summertime dish. The dish incorporates the colours of the Italian flag, and uses the freshest summer ingredients.
Serves 4 as an appetizer
8 ounces fresh mozzarella
2-3 tomatoes1 bunch basil
Extra-virign olive oilSea saltBlack pepper
Slice the mozzarella and tomatoes into thin slices. Lay tomato slices on a platter, top with a leaf of basil, and then layer with mozzarella. Drizzle with olive oil and sprinkle with salt and black pepper. Serve immediately.
Orange, Olive, and Fennel Salad
This is probably our second favourite salad - we really can't eat enough of fennel and orange. But the olives added a salty, savoury kick. We used some unbelievably meaty and delicious home-cured black olives from our local market. We also used our new Benriner mandoline! So fun and easy.
Serves 4
1 clove garlic, halved
1/3 cup extra-virgin olive oil
1/3 cup fresh orange juice
Salt and freshly ground black pepper to taste
Leaves from 2 bunches arugula
4 navel oranges, peel and pith removed, sliced crosswise1 large bulb fennel, halved and thinly sliced
½ cup pitted oil-curred black olives
Rub a large salad bowl several times with the cut surface of the garlic clove; discard garlic. In a bowl, whisk the oil, orange juice, and salt and pepper.
Add the argula to the bowl and toss with the dressing; transfer the arugula to chilled serving dishes. Add the oranges, fennel, and olives to the bowl with the dressing; gently toss them to coat lightly with dressing and arrange over the arugula on the plates. Sprinkle with additional salt and pepper and serve immediately.
Panzanella
There are two ways you can view this Italian bread salad: as a dish that really lets the best of the season shine or as a clever excuse to have your bread and eat it too. However you choose to see it, Panzanella is delicious and satisfying!
There's a lot of room for variation in this salad. Because of this, we give a lot of the measurements in ranges rather than exact amounts so you can play with the flavours depending on your personal tastes and what you have in your fridge. When tweaking the dressing, start with the lowest amount given, taste it, and work your way up.
Panzanella is best if you use the freshest produce of the season. Try to chop everything to roughly the same size, but don't worry about perfect cubes and wedges. This is a rustic country salad meant to use up old bread and take advantage of what's in the garden, so presentation is secondary to taste!
For the bread, choose a hearty country loaf or boule. You can use fresh bread, but bread that is a few days old will hold up better in the salad without disintegrating into soggy clumps. This salad is also best eaten the same day its made when the bread is still crispy and a little chewy.
Serves 8 to 10
For the salad:
2 tablespoons olive oil
1 teaspoon salt1 loaf or boule of bread, preferably day-old, crusts removed (if desired) and sliced into 1-inch cubes
1 pepper, red or orange, chopped
1 medium cucumber, peeled and chopped
1 red onion, chopped and held in a bowl of cool water
2 to 3 medium tomatoes, cored and chopped
1 to 3 tablespoons capers, rinsed and minced8 ounce ball of mozzarella, cubed
3/4 cup (roughly) basil leaves, julienned
For the dressing:
2 cloves garlic, finely minced
1 teaspoon dijon mustard
3 to 5 tablespoons champagne, red wine, or balsamic vinegar
1/4 to 1/2 cup good olive oil1 teaspoon salt
freshly ground black pepper
In a skillet or sauce pan large enough to hold all the bread cubes, heat 2 tablespoons of olive oil over medium heat. Add 1 teaspoon of salt and the cubes of bread, and toss to coat. Stir every few minutes until the bread is golden on all sides and crispy.
Drain the red onions from the water. Combine the bread with all the other salad ingredients in a large serving bowl.
In a small bowl or measuring cup, combine all the ingredients for the dressing. When first making this dressing, start with the lowest amounts given and work your way up to taste. Whisk all the ingredients until they have formed an emulsion and the dressing is slightly thickened.
A half hour before serving the Panzanella, toss the salad with the dressing (re-whisk if necessary) and let sit so the flavours combine.
Spaghetti with mussels and chilli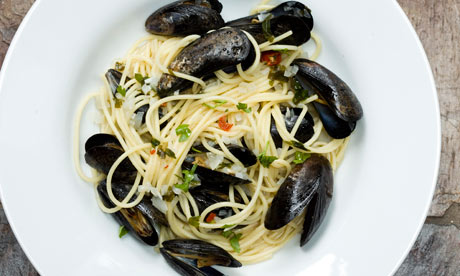 Ingredients:
100 ml dry white wine
1 kg mussels, scrubbed
200 gm dried spaghetti
50 ml extra-virgin olive oil, plus extra to serve
1garlic clove, thinly sliced
2small zucchini, cut into julienne
½ tsp dried red chilli flakes
½ cup(loosely packed) basil
1 tb spfinely chopped tarragon
To serve:
lemon wedges (optional)
Pangrattato:
200 gm (about ½) stale white baguette, cut into small cubes
50 ml extra-virgin olive oil1garlic clove, crushed
For pangrattato, preheat oven to 250C. Combine ingredients in a bowl, season to taste, then scatter on an oven tray and bake, shaking occasionally, until golden (5-10 minutes). Set aside. Bring wine to the boil in a large saucepan over high heat, add mussels, cover with a lid and shake occasionally until mussels open (4-6 minutes). Remove from heat, drain, reserving cooking liquid, and set aside. When mussels are cool enough to handle, remove from shells and set aside. Boil spaghetti in a large saucepan of salted water until al dente (5-7 minutes), then drain. Heat oil in a frying pan over medium-high heat, add garlic and sauté until pale golden (1 minute). Add zucchini and chilli and cook until zucchini is tender (1-2 minutes). Add mussels, basil, tarragon, 60ml reserved cooking liquid and pasta and toss to combine. Season drizzle with olive oil, scatter with pangrattato and serve with lemon wedges.
Don't forget to check what's new on http://lanimacafe.co.uk/whats-on